Let yourself be carried away into the diversity of nature along winding paths and magnificent avenues. As a historical work of natural art, laid out in the 18th century, the gardens bring together 150 different, partly exotic tree species and shrubs as well as a lush bloom of rhododendrons and azaleas in spring.
Marvel at over 90 different species, many of them particularly rare. But what is really special about these stands is "that they are unparalleled in Germany in terms of age and, accordingly, in the size they have reached. Lütetsburg Castle Gardens was one of the first in Germany to be dedicated to rhododendrons," says Odo Tschetsch, German Rhododendron Gene Bank. When, at the beginning of the 19th century, introduced wild rhododendron species began to be cultivated by sowing, the first plant hybrids were created. Of these, many interesting varieties can still be found today among the plants native to the park.
The Rustica azalea is another special feature to be discovered in the park: Originally from Belgium, this plant is characterised by its double flower and is rarely found today.
Address:
Schlosspark Lütetsburg
Landstr. 39 | 26524 Lütetsburg
A free car park is located opposite the entrance.
Opening hours:
The gardens are open all year round:
May – September: 8am - 9pm
October – April: 10am - 5pm
.
Lütetsburg is a member of the Deutschen Genbank Rhododendron.
.
.
Kronprinz Rudolf
Berlepsch
Bismarck Apfel
Gräfin von Paris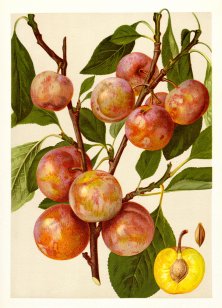 Graf Althans Reneklode
Herzogin Elsa
Victoriapflaume
Kaiser Alexander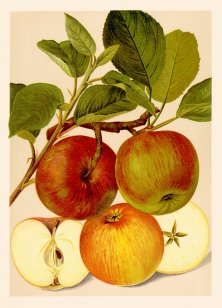 Kaiser Wilhelm
Prinz Albrecht von Preussen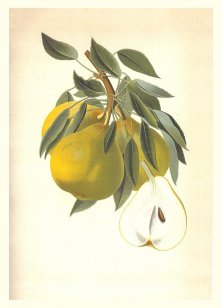 Josephine von Mecheln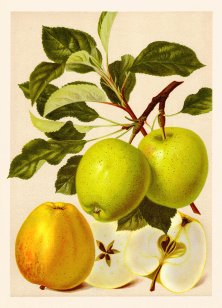 Zuccalmaglios Renette
.
.
Traditional orchard meadow
As part of a slight redesign of the castle grounds, a meadow orchard with old, traditional fruit varieties was planted in 2016. The newly planted trees are very old varieties that have been known for over 100 years, including the pear varieties Kaiser Alexander, Countess of Paris, Duchess Elsa and Josephine von Mecheln; the apple varieties Bismarckapfel, Freiherr Berlepsch, Kaiser Wilhelm, Duke of Cumberland, Count von Zuccalmaglio, Crown Prince Rudolf and Prince Albrecht of Prussia; and the plum varieties Königin Victoria and Graf Althans.
Historically, meadow orchards fulfilled a dual economic function: on the one hand, the meadow was grazed or the dried grass was used as winter fodder. On the other hand, the fruit served as an important source of vitamins. Visit our historic orchard meadow - it is located directly between the baroque-looking front part of the castle park and the back part with its old trees. This was also originally an orchard - remnants of the fruit trees that were once here can still be found today.
.
More information...
... can be found on our website. There you will get an overview of the extensive variety of native and exotic trees and shrubs, which is second to none.
www.schlosspark-luetetsburg.com
Become a friend of Lütetsburg
...and support the association in preserving this unique historical garden monument for future generations.
Discover more
.
.